Exceptional sound and intelligent features
The Samsung Galaxy Buds 2 were the company's newest wireless earphones. These earbuds provide exceptional sound quality, a secure fit, and innovative features, making them a fantastic choice for anybody searching for an outstanding music experience.
Looks as good as it Sound
The Samsung Galaxy Buds 2 works alongside Android and iOS smartphones and links to them using Bluetooth v5.2 for reliable and quick connectivity. The earbuds also work with Samsung's Galaxy Wearable application, which lets you personalize the touch controllers and audio parameters.
Suitable Fit
The Galaxy Buds 2 have a small and comfortable shape that fits snugly in your ears. They are compact and have soft silicone tips in three sizes to provide a perfect fit for everybody. The earphones also have a venting design that decreases stress in your ears, which makes them pleasant to use for extended periods of time.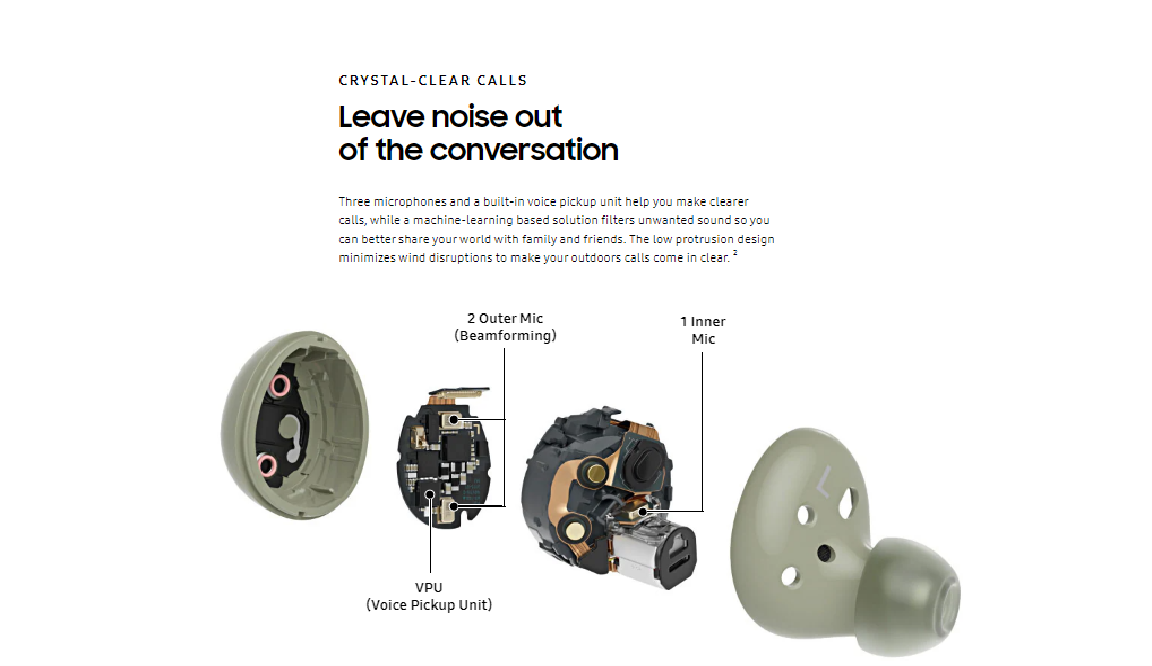 Helpful Functions
The Samsung Galaxy Buds 2 include sophisticated features that make them simple and convenient to use. Touch controls let you play, stop, change tracks, and change the sound level with a single tap. The headphones also have speech recognition, which switches form audio to quiet sounds when you begin conversing. They also offer an auto-pause function that automatically stops the song whenever you remove one of the earphones.
Battery life is extended
The Galaxy Buds 2 feature a lengthy battery life of up to 1.5 hours on a single set, and the recharging case adds another 3-4 hours. Quick recharging allows you to receive an hour of playing duration in only five minutes. The headphones also allow wireless powering, making it simple to power them while on the road.
Compatible Superior Audio
The Samsung Galaxy Buds 2 include two-way dynamic earphones that produce high-quality music with sharp treble, strong basses, and clear mids. Active noise cancellation (ANC) innovation is also included in the earbuds, which suppress outside noise and helps you to concentrate on your music and conversations.